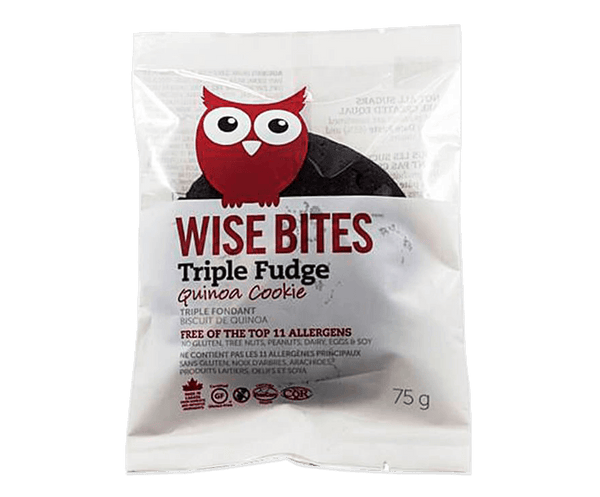 Chocolate, chocolate, chocolate! This cookie is for chocolate lovers, loaded with dark Callebaut chocolate.
We've given these beloved treats a makeover using protein, iron and fibre-rich quinoa flour, sweetened mostly with dates and other natural sweeteners and only modest amounts of heart-healthy fats and refined sugar. Better still, they're made in a dedicated factory that's guaranteed free of gluten, peanuts, tree nuts, eggs, dairy, soy, fish and shellfish.
These delicious & healthy jumbo cookies are ideal for sports activities, traveling and perfect for snacking anytime, making them a snack that truly satisfies your hunger and sugar craving.
Each 75g cookie has 5g of protein and 5g of fibre. Individually packaged and sold 24 x 75g per case.

ALL OF OUR PRODUCTS ARE FRESHLY BAKED
FREE SHIPPING FOR ORDERS OVER $50  (WITHIN CANADA)
Ingredients: Wise Bites All Purpose Flour (Quinoa/Kaniwa, Sorghum, Tapioca Flour, Xanthan Gum),  Water,  Dates (Dates, Water, Citric Acid), Vegetable Oil (Sunflower), Chocolate Chips(Evaporated Cane Juice, Natural Chocolate Liquor, Cocoa Butter), Cane Sugar, Cocoa Powder, Brown Rice Protein Isolate/Pea Protein,  Moisture Lok (grape juice, rice syrup, carrot fibre), Maple Syrup, Pure Vanilla , Xanthan Gum, Baking Soda, Acacia gum, Salt ,Cinnamon,  Organic Spice.