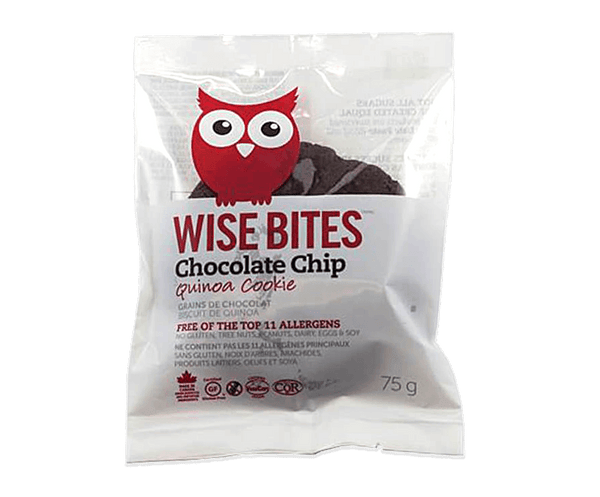 If you like chocolate chip cookies then you will love this cookie, imagine eating a classic chocolate chip cookie with health benefits!
We've given these beloved treats a makeover using protein, iron and fibre-rich quinoa flour, sweetened mostly with dates and other natural sweeteners and only modest amounts of heart-healthy fats and refined sugar. Better still, they're made in a dedicated factory that's guaranteed free of gluten, peanuts, tree nuts, eggs, dairy, soy, fish and shellfish.
These delicious & healthy jumbo cookies are ideal for sports activities, traveling and perfect for snacking anytime, making them a snack that truly satisfies your hunger and sugar craving.
Each 75g cookie has 5g of protein and 5g of fibre. Individually packaged and sold 24 x 75g per case.
ALL OF OUR PRODUCTS ARE FRESHLY BAKED
FREE SHIPPING FOR ORDERS OVER $50  (WITHIN CANADA)
Ingredients: Wise Bites All Purpose Flour ( Quinoa/Kaniwa, Sorghum, Tapioca Flour, Xanthan Gum), Date Paste (Dates, Water, Citric Acid), Water, Pure Cane Sugar, Chocolate Chips, (Evaporated Cane Juice, Natural Chocolate liquor, Cocoa Butter), Vegetable Oil (Sunflower), Brown Rice Protein Isolate/Pea Protein, Maple Syrup, Pure Vanilla, Acacia Powder, Moisture Lok (grape juice, rice syrup, carrot fibre), Baking Soda, Cinnamon, Salt, Organic Spice.