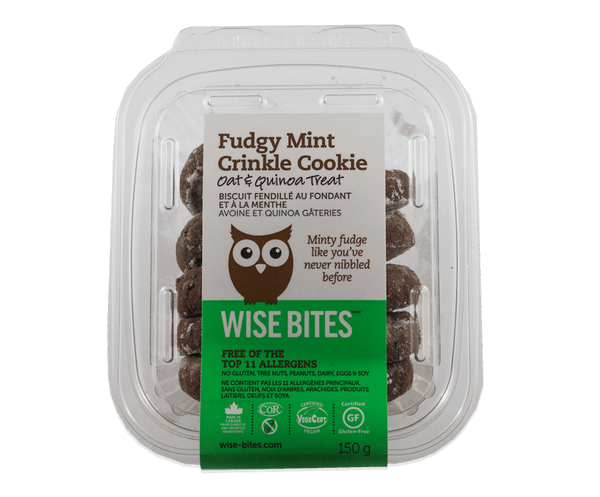 Get ready to indulge in our deliciously addictive Fudgy Mint Crinkle Cookies!
Made with gluten-free oats and superfood quinoa flour, these cookies are packed with healthy benefits. Completely vegan and plant-based our cookies are free from 11 of the top allergens and are non-GMO.
So, whether you need a quick snack on the go or a sweet treat to share with friends, our cookie bars are the perfect choice!

Ingredients: Wise Bites All Purpose Baking Mix: (Quinoa Flour, Oat Flour, Sorghum Flour, Tapioca Flour, Xanthan Gum), Date Paste ( Dates, Water, Citric Acid), Water, Cane Sugar, Chocolate Chips (Evaporated Cane Juice, Natural Chocolate Liquor, Cocoa Butter), Vegetable Oil (Sunflower), Cocoa Powder, Maple Syrup, Pure Vanilla, Baking Soda, Salt, Cinnamon, Organic Peppermint, Spice Rosemary.