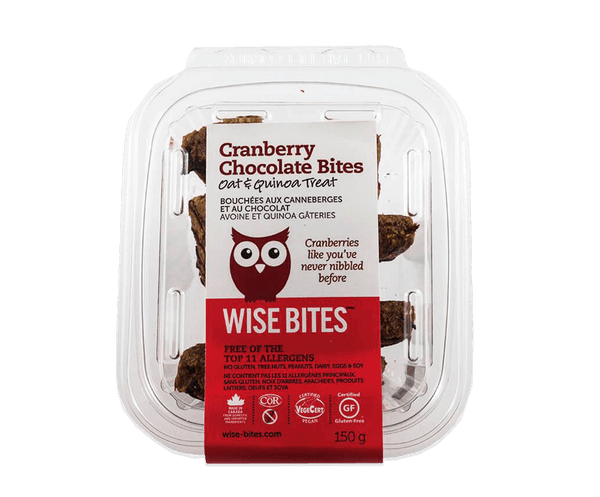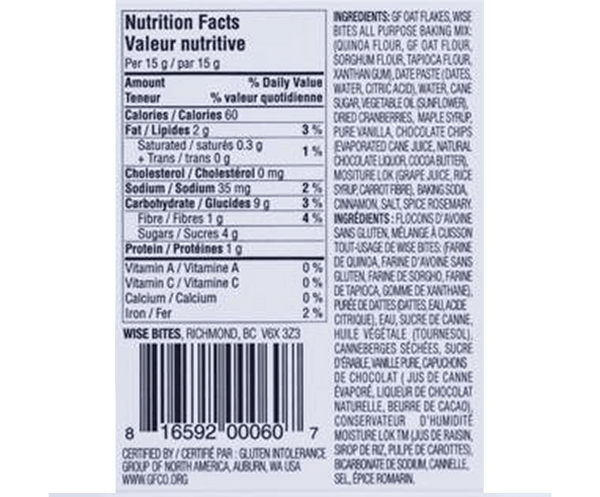 Looking for a tasty snack that's guilt-free and packed with nutrition? Look no further than our Cranberry Chocolate super cookie bars!

Made with gluten-free oats, they're loaded with beta-glucan, a powerful soluble fiber that's great for digestion. Plus, our quinoa flour is a plant-based source of protein that contains all nine essential amino acids.

These bars are also vegan, non-GMO, and free from 13 of the top known allergens, so you can snack with confidence. Whether you're on-the-go, at work, or just relaxing at home, these little boxes of joy are perfect for any occasion.
Ingredients: GF Oat Flakes, Wise Bites All Purpose Baking Mix: (Organic Quinoa Flour, GF Oat Flour, Sorghum Flour, Tapioca Flour, Xanthan Gum), Date Paste ( Dates, Water, Citric Acid), Water, Cane Sugar, Vegetable Oil (Sunflower), Dried Cranberries,  Maple Syrup, Pure Vanilla, Chocolate Chips (Evaporated Cane Juice, Natural Chocolate Liquor, Cocoa Butter), Baking Soda,  Cinnamon, Salt,  Spice Rosemary.