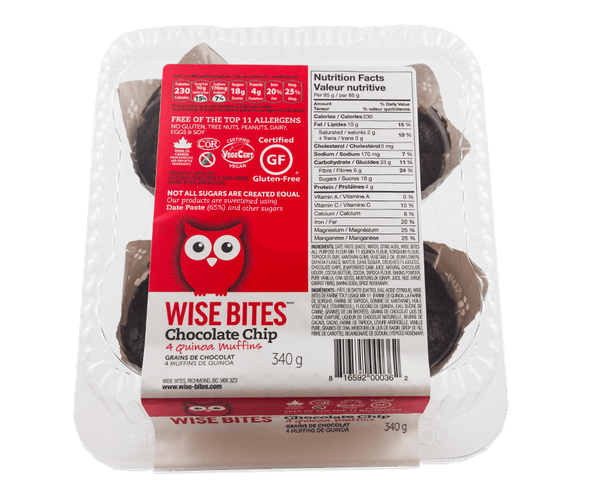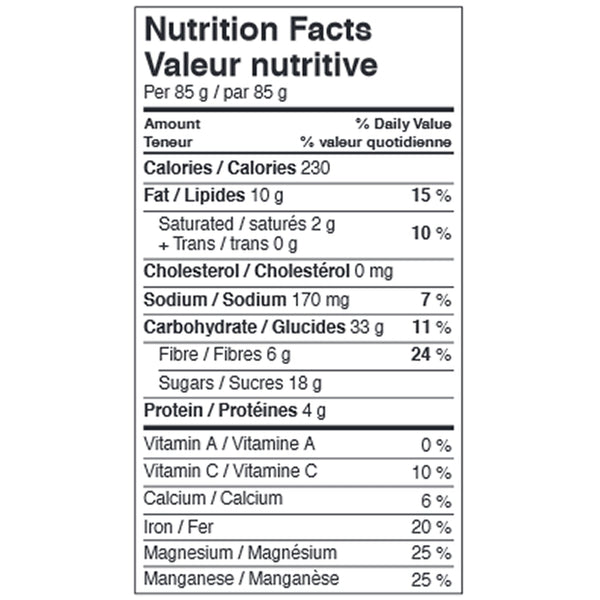 Chocolate lovers, Wise Bites Chocolate Quinoa Muffins are for you. They get their moist, rich, dark-chocolately flavour from dairy-free chocolate chips. They're so decadent and flavourful you'll forget they're high in protein, iron and fibre.
Wise Bites Muffins are yummy, natural treats made with organic quinoa flour and organic quinoa flakes and sweetened mostly with date paste. 

Wise Bites Chocolate Quinoa Muffins are 340g (4 muffins); 4g protein, 6g fibre.
ALL OF OUR PRODUCTS ARE FRESHLY BAKED

NOTE: AT THIS TIME OUR MUFFINS ARE ONLY AVAILABLE FOR PICK-UP AT OUR PLANT.
Ingredients: Date Paste (Dates, Water, Citric Acid), Wise Bites All Purpose Flour Mixture #2 :( Organic Quinoa Flour, Sorghum Flour, Tapioca Flour, Xanthan Gum), Vegetable Oil (Sunflower), Organic Quinoa Flakes, Water, Cane Sugar, Flaxseed Crushed, Chocolate Chips, (Evaporated Cane Juice, Natural Chocolate Liquor, Cocoa Butter), Cocoa, Baking Powder, Pure Vanilla, Chia Seeds, Baking Soda, Xanthan Gum, Organic Spice.