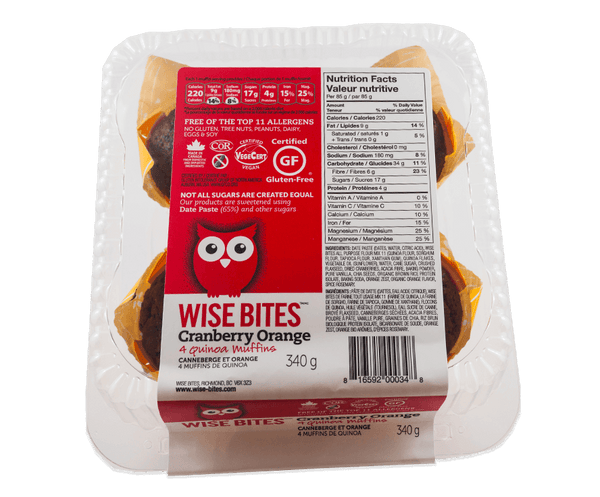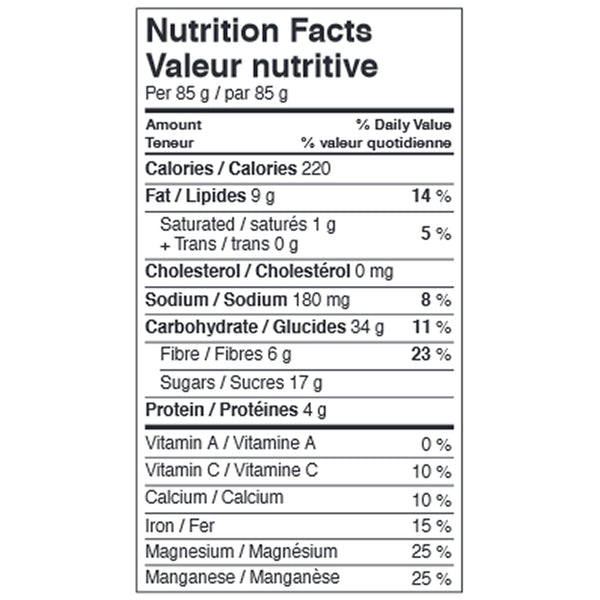 Wise Bites Cranberry Orange Quinoa Muffins get their delicious fruity taste from dried cranberries, (sulphite-free), orange zest and organic orange flavour. They're so moist and flavourful you'll forget they're high in protein, iron and fibre.
Wise Bites Muffins are yummy, natural treats made with organic quinoa flour and organic quinoa flakes and sweetened mostly with date paste. 

Wise Bites Cranberry Orange Quinoa Muffins are 340g (4 muffins); 4g protein, 6g fibre.
NOTE: AT THIS TIME OUR MUFFINS ARE ONLY AVAILABLE FOR PICK-UP.
Ingredients: Date Paste (Dates, Water, Citric Acid), Wise Bites All Purpose Flour Mix: (Quinoa Flour, Sorghum Flour, Tapioca Flour, Xanthan Gum), Quinoa Flakes, Vegetable Oil (Sunflower), Water, Cane Sugar, Crushed Flaxseed, Dried Cranberries, Acacia Fibre, Baking Powder, Pure Vanilla, Chia Seeds, Organic Brown Rice Protein Isolate/ Pea Protein, Baking Soda, Orange Zest, Organic Orange Flavor, Rosemary Spice.