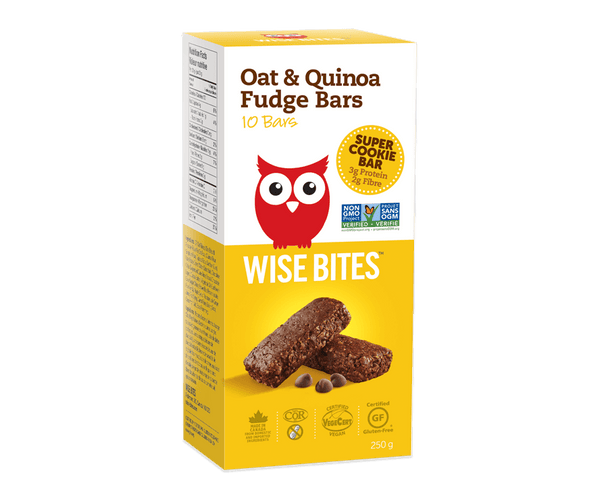 Looking for a tasty and healthy snack that fits deliciously with your fitness goals? Look no further than our Oat & Quinoa Fudge Bars! These vegan, plant-based, non-gmo treats are also free from the top 13 known allergens, so you can indulge without worry.

For chocolate lovers, the Oat & Quinoa Fudge bars are a must-try. Made with dairy-free chocolate chips and nutrient-rich quinoa flour, these bars are packed with all nine essential amino acids.

Freshly baked with 3g of protein and 2g of fiber per serving, these bars are the perfect choice for a pre-workout boost or a post-workout snack. And with a smart portion size and natural sweeteners, you can enjoy them guilt-free
Ingredients: GF Oat Flakes, Wise Bites All Purpose Flour Mix (Oat Flour, Organic Quinoa Flour, Sorghum Flour, Tapioca Flour, Xanthan Gum), Date Paste (Dates, Water, Citric Acid), Chocolate Chips (Evaporated Cane Juice, Natural Chocolate Liquor, Cocoa Butter), Vegetable Oil (Sunflower),Cane Sugar, Water, Brown Rice Protein Isolate, Pure Vanilla, Maple Syrup, Baking Soda, Cinnamon, Salt, Spice Rosemary.