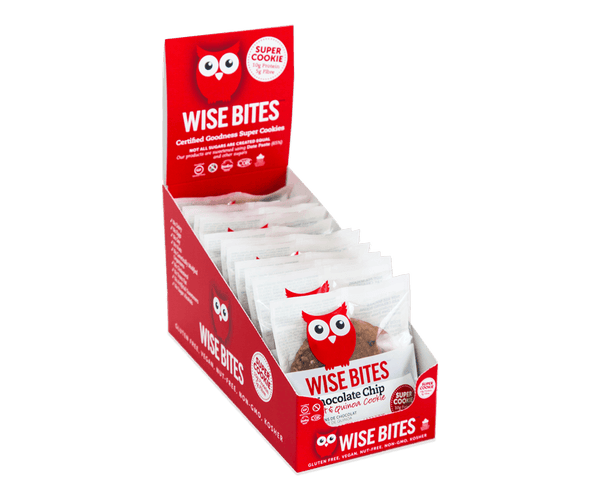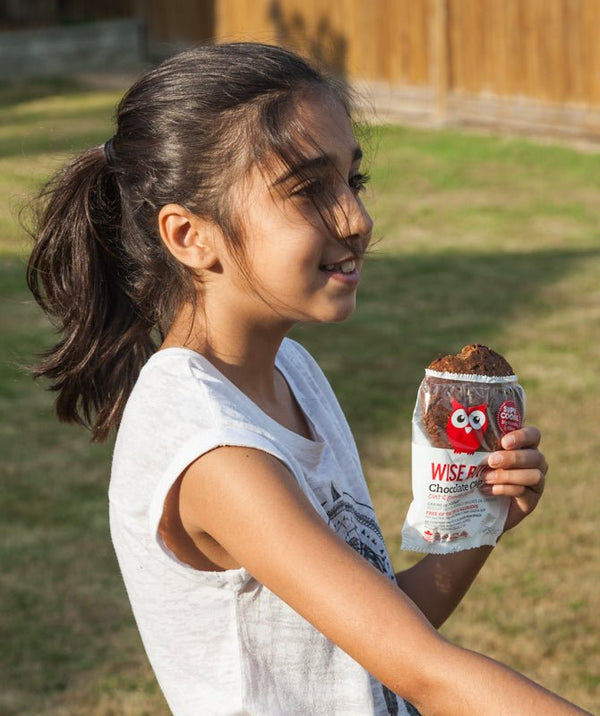 We are excited to introduce you to our SUPER Cookie; this delicious healthy Oat & Quinoa Chocolate Chip 75g Cookie packs a powerful punch with 10g of Protein and 5g of Fibre in every cookie! The perfect grab n go snacks. Free from the Top 11 Allergens, School Safeto eat before or after a work out or to enjoy during your coffee break.  If you are really pushed for time these high protein cookies will hold you over for a long time!
High in protein, fibre, iron and Omega-3
Low in sugar, fat and sodium,(sweetened mostly with dates)
Individually packaged and sold as shown in the displayer.  (There are two displayers in every case – total of 24 cookies per case.)
ALL OF OUR PRODUCTS ARE FRESHLY BAKED
FREE SHIPPING FOR ORDERS OVER $50  (WITHIN CANADA)
Ingredients: GF Oat Flakes, Wise Bites All Purpose Flour Mix (Oat Flour, Quinoa Flour, Sorghum Flour, Tapioca Flour, Xanthan Gum), Date Paste (Dates, water, Citric acid), Chocolate Chips (Evaporated Cane Juice, Natural Chocolate Liquor, Cocoa Butter), Oil (Sunflower) Cane Sugar, Water, Brown Rice Protein Isolate/Organic Lupine, Pure Vanilla, Maple Syrup, Moisture Lok (Grape Juice, Rice Syrup, Carrot Fibre), Baking Soda, Cinnamon, Salt,  Spice Rosemary.