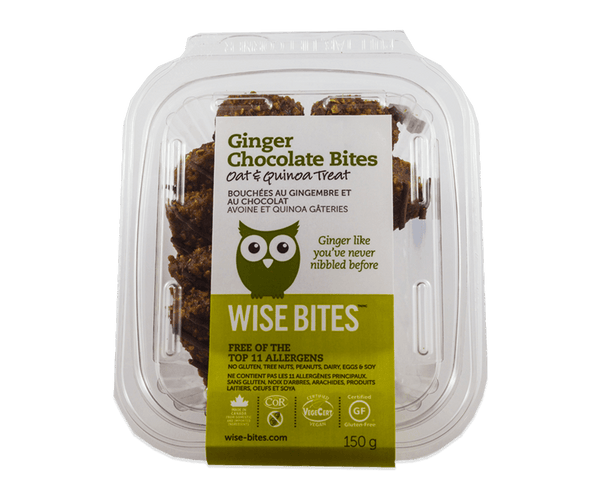 These delicious little boxes of our unique Ginger Chocolate cookies are perfect for every occasion.

Our gluten-free oats contain a powerful soluble fiber called beta-glucan, so you can enjoy these small indulgences along with the many benefits of oats. Plus, our quinoa flour is super high in protein and delivers all nine essential amino acids. 
A box of Ginger Chocolate Bites is 150g (10 cookies); 1g protein, 1g fibre.
FREE SHIPPING FOR ORDERS OVER $50  (WITHIN CANADA)
Ingredients: GF Oat Flakes, Wise Bites All Purpose Baking Mix: (Quinoa Flour, GF Oat Flour, Sorghum Flour, Tapioca Flour, Xanthan Gum), Date Paste (Dates, Water, Citric Acid), Water, Cane Sugar, Vegetable Oil (Sunflower), Ginger (Ginger, Cane Sugar), Molasses, Pure Vanilla, Chocolate Chips (Evaporated Cane Juice, Natural Chocolate Liquor, Cocoa Butter), Ginger, Baking Soda, Salt, Cinnamon, Spice Rosemary.